2014 Daily NFL Fantasy Football Preview – AFC North Teams
|
Today we preview the AFC North division to scout out some possible daily fantasy plays early on. Stay tuned to Daily Fantasy Grind as we provide more analysis leading up to the 2014 NFL daily fantasy football season.
Quarterbacks
Bengals – Andy Dalton
Just got strapped up with a new contract this off season – and comes in as a capable cheaper QB you can roll with if you spend all your budget on RB's/WR's. However starting Andy comes with conditions, you probably want to only start him at home, as he threw 21 TDs at home vs only 13 on the road. You also only want to start him against weaker teams. Week 1 he faces the Baltimore Ravens, and should be avoided. He is tempting, considering his price tag is lower than Michael Vick, Alex Smith & Eli Manning. One advantage Andy has over these QB's and others – the Bengals have some multiple weapons to throw to.
Browns – Brian Hoyer or Johnny Manziel

Hoyer got hurt last season in week 3 – but played well his first 2 full games. Not well enough to really be considered in daily fantasy lineups, except on the rarest of occasions. Loosing WR Josh Gordon probably for the season will likely not help whichever QB lands the starting job. While Hoyer is considered a sleeper – Johnny Manziel is a wild card. Johnny Football could be an exceptional daily fantasy player if his running ability is utilized, or he could be on the same value of Hoyer. Against weaker opponents – either QB could be a potential sleeper starter … just make sure you knock it out the park with your other picks.
Ravens – Joe Flacco
You can almost read what I wrote for Andy Dalton and apply it to Joe Flacco – but to a lesser extent. Flacco had a horrible 2013 season where he threw more INT's than TD's (talk about chilling after winning a ring & signing a huge deal). Outside of Torrey Smith & the recently added Steve Smith, the Ravens don't have much talent for Flacco to throw to. Until Joe proves to you that he's back to playing good football – I would avoid him all season unless it was against the worst passing defense in the league – at home.
Steelers – Ben Roethlisberger
Comes off a 2013 where he was effective both on the road & at home. He's probably a little overvalued on some daily fantasy sites, mainly because of his reputation and the popularity of the Steelers. However he's a viable spot-starter type QB if you blow all your money on WR's/TE's/RB's. Week 1 he faces off against Cleveland, which could be an interesting matchup because the Browns have some young cornerbacks who could be really good – or give up some big plays. Similar to Joe Flacco, Big Ben lacks weapons of offense to really showcase his talents. #1 WR Antonio Brown is great, but the #2 WR on the depth chart currently is Markus Wheaton who only had 6 catches last season.
---
Running Back
Bengals – Giovani Bernard – Jeremy Hill – BJGE
When you look at Bernard's rushing stats – you see a guy who never got over 100 yards. And quite honestly, the Bengals probably saw this during the off-season which made picking a running back in the 2nd round again made sense for the team. But while Bernard might not be a 100 yard type guy … in PPR formats, he's highly effective. He had 6 games with 5 catches or more. Bernard is a sleeper starter – especially against a team with a good run-D … mainly because the Bengals will use him in the passing game more. All other weeks, he's a decent play, but he's probably slightly overvalued on some daily sites. Jeremy Hill is a rookie – and will likely get playing time, but probably won't get enough touches to warrant starting him in your daily lineups unless Bernard were to get injured. Green-Ellis seems to be the odd man out, but still will likely be around getting touches … but shouldn't be anywhere near your daily lineups.
Browns – Ben Tate – Terrance West – Chris Ogonnaya
This will likely be an interesting RB situation to follow. Tate is likely the front runner – and is certainly capable of being a solid play. It sounds like West is impressing coaches/staff at the Browns camp, so he could potentially eat into some carries. You also have Ogonnaya – who's relatively effective catching the ball out of the back field. I wouldn't spend too much on Tate unless you have a clear picture of the number of touches he will get. It's possible he's a #1 type guy because the talent behind him can't measure up … or he might be regulated to 10 – 15 carries a game which limits his upside potential.
Ravens – Ray Rice – Bernard Pierce
Rice is suspended the first two weeks, so Pierce will likely be a sexy play early on in the season. Looking at the 2013 game-log for Pierce … I don't like him. I think he'll get valued as a #2/FLEX RB, but I just don't see the upside. He's not a TD machine, and even when given plenty of touches, not a big-play type guy. It's possible with all the off-season drama, Rice's effectiveness is diminished most of the season – but Rice could return to being a decent #2/FLEX type guy, but I'd make him prove it before starting him against any capable defense.
Steelers – Le'Veon Bell – Legarrette Blount
Bell is a top 10 NFL running back and has top 5 type upside. The Steelers added Blount as a back-up … but Bell should get the bulk of the carries if healthy. He faces Cleveland week one – so he starts the season off as a likely starter in numerous daily fantasy lineups. The Steelers are known for developing sleeper running backs – but for now, Le'Veon Bell rates as one of the best RB options in this division, and all of the NFL.
---
Wide Receiver
Bengals – A.J. Green – Marvin Jones – Mohamed Sanu
The Bengals have some of the deepest talent at WR in the entire NFL. If you include their two 1st round TE selections, and you can see why Andy Dalton has put up solid numbers and why the Bengals have made the postseason three years in a row. A.J. Green is one of the best WR's in the league, and enters week 1 vs Baltimore in the top-10 most expensive WR's. Green had good numbers against Baltimore last year, and is a solid start week 1. Marvin Jones has been a bit banged up, but if healthy by week 1 – is a sleeper #3 WR type guy who caught 10 TD's last year (4 came in one game). I like Jones as my #3 WR because he's cheap & A.J. Green can effectively help him get open by drawing defenses toward him. Sanu is a possesion guy – who should be avoided for the most part, but does have some value against weak teams or if WR's are hurt.
Browns – Josh Gordon – Andrew Hawkins – Miles Austin – Nate Burleson – Travis Benjamin
The Browns have lost the talented Josh Gordon (who lead the NFL in receiving last season) but have done a good job at bringing in some veterans who can help fill some voids. Andrew Hawkins comes over from the Bengals – who was a #3/Slot type guy with lots of speed & shiftiness. He's certainly a sleeper #3/Flex type guy because he's likely a safety valve guy for the QB given Austin & Burleson will struggle to get open on the outside against athletic corners. Austin & Burleson come off injuries – and will have to prove they can still play before inserting them into your lineups. Travis Benjamin has some value if injuries occur to Austin & Burleson again … plus he returns kicks. But for now, Benjamin shouldn't be in your lineups.
Ravens – Torrey Smith – Steve Smith
One thing I've learned over the years is to never count out Steve Smith – but Baltimore rates to be a fairly easy team to defend given the lack of weapons in the passing game. Having a talented Torrey Smith across from him might help Steve Smith – who I like as a cheap sleeper #3 WR against poor teams. Torrey is a talented player, but only had 4 TD's last season – so his upside only happens when he gets big yardage. Torrey is probably slightly overvalued in fantasy circles – and will have to prove he can be more consistent to be considered anything but a #3 WR at best.
Steelers – Antonio Brown – Markus Wheaton – Lance Moore
The Steelers WR crew doesn't have much depth, but is led by one of the better WR's in the league – Antonio Brown. He had 5 games last season with 9 or more catches. Against strong defensive teams, I probably look elsewhere, but Brown is a solid play just about each week. The only thing that concerns me is that a #2 or #3 option doesn't emerge – so he'll get double-teamed most of the game. Wheaton, a rookie last season, is listed as the #2 WR on the depth chart … but will have to prove himself before I put him in. He's a gamblers #3 WR at best starting the season. Lance Moore comes over, and should get some touches – but likely not enough to warrant starting him.
---
Tight End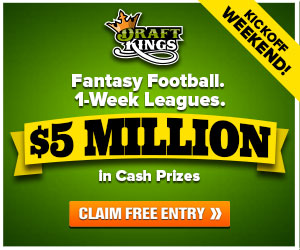 Bengals – Jermaine Gresham – Tyler Eifert
Both are 1st round picks and Gresham has been to the Pro Bowl. Given how many weapons the Bengals have, it does create opportunities for these two, but also takes away chances to have huge games. Gresham has been shaken up this off-season, which could open the door for Eifert to play more. Last season, the team did use both Gresham & Eifert as a slot WR too. My daily fantasy strategy is often to punt the TE position with a cheaper/sleeper type guy … and Eifert & Gresham can prove to be worthy options if you don't want to pay up for Jimmy Graham or Gronk.
Browns – Jordan Cameron
Is banged up early in the preseason, but emerged as one of the best TE in the league last season. Without Josh Gordon attracting attention outside – it might be tough to get Cameron the ball, but he's a solid start most weeks based on what he did last season.
Ravens – Dennis Pitta
Played in 4 games last season, and is mildly effective in 1pt PPR formats. I'd probably avoid him unless he emerges as a viable option in the Ravens passing game.
Steelers – Heath Miller
Likely you'll avoid playing Miller. While he can have a good game … trying to predict that is like trying to predict the winner of the Super Bowl.
Check out our weekly newsletter