Daily College Fantasy Football Picks – Week 5 (Thursday/Friday)
|
Sorry for the delay in getting these picks up this week. I actually was "LeBroning" earlier in the week and had to make a trip to the hospital. Luckily nothing is seriously wrong, but I'm behind a bit in research this week. I might not get around to all the Saturday games, but I'll do my best to research them all. Today though, we have the Thursday/Friday games which are pretty cool this week.
Here is the schedule of games we're working with this week:
App State at Georgia Southern (-19)
Texas Tech at Oklahoma State (-14)
UCLA (-3) at Arizona State
Middle Tenn St at Old Dominion (-3)
Fresno State (-5) at New Mexico
Quarterback Picks
Texas Tech – DAVIS WEBB
Solid matchup and his team is likely to be throwing all game. He's had 3 or more TD's in all 3 games this season and has 45+ attempts in 2/3 games.
Old Dominion – TAYLOR HEINICKE
Has 40+ pass attempts in 3/4 games and had 5 TD's last game against Rice on the road.
UCLA – BRETT HUNDLEY
Everyone is expecting him to play, just double check on gameday because it could be UCLA is bluffing. I think his value takes a little bit of a hit because he's likely not going to be asked to run/QB sneak much with the elbow injury.
Oklahoma State – DAXX GARMAN
Wish I could say I've seen this guy play, but I haven't yet this season. He's filling in for the injured J.W. Walsh. In 2 games this season he has 2 TD's in each of the games. He's a viable mid-priced option, or a solid #2 QB with the limited slate of games.
Middle Tennesse – AUSTIN GRAMMER
Is capable of having a big game, but also hasn't thrown for 2+ TD's in any game this season. Does have a game where he rushed for 125 yards and 3 TD's but that isn't the norm. He's a gamblers #2 QB since he is decent.
Georgia Southern – KEVIN ELLISON
His value relies on his ability to run the football as he's not much of a passer. He is pretty cheap and faces a team that should give up some yardage.
Arizona St. – MIKE BERCOVICI
Has played in all 3 games this season on a limited basis. Kelly's numbers haven't been sensational, so Bercovici against UCLA might not be the strongest play, but he's cheap so you could stack the rest of your lineup.
Fresno St. at New Mexico
Right now, it's a QB carousel on both teams because of injury & poor play. It's too bad, because this is a nice matchup for both teams, but might be too risky to choose 1 QB right now.
Arizona St. – Taylor Kelly
Is hurt & is out.
Running Backs
There's actually some good RB options this week since there's some starting QB's out/injured. These aren't really in order outside of D.J. Foster being the clear leader … but the rest of these guys have upside.
Arizona State – D.J. FOSTER
His carries have gone up each game and he has a TD in each of the first 3 games. With the starting QB out, he might be relied on more.
App State – MARCUS COX
Is listed as probable, so just double check pre-game. He has at least 1 TD in the 3 games he's played this season and has 20+ carries. His opponent has given up 188.8 yards per game to RB's through 4 games.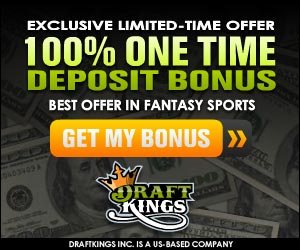 Georgia Southern – MATT BREIDA
This team has a few RB's that have gotten touches but Matt is the leader of the pack. He had 21 carries last week and he has 2 TD's in each of the last 3 games.
UCLA – PAUL PERKINS
Has 20+ carries in 2 games this season but only found the endzone (twice) against Memphis in week 2. He does manage to get a few receptions so he has some PPR value as well.
Oklahoma State – DESMOND ROLAND
Was hurt and missed a game, so his value is deflated a bit. He's coming off a bye so he should be good. I love the matchup since TT has given up 297.7 yards/game to teams through 3 games.
Fresno State – MARTEZE WALLER
The team has a few backs but he's the leader of the pack. Risky play, but New Mexico is not good at stopping the run.
If you feel like gambling, there's more RB's … but they are risky because they are inconsistent in the number of touches they get every game.
Wide Receivers
Old Dominion – ANTONIO VAUGHAN
Solid option this week and he's fairly consistent as well.
Old Dominion – ZACH PASCAL
Has 8,9,2,6 receptions in the first 4 games …. he's a good option this week.
Arizona State – JAELEN STRONG
With the backup in, it might hurt his value a bit, but he's a solid option almost every week.
Texas Tech – BRADLEY MARQUEZ
Came back down to earth after having 5 TD catches in the first 2 games. Is a solid mid-priced options on a team that likes to throw.
Texas Tech – JAKEEM GRANT
Solid option who has 6+ reception in each of the first 3 games this season.
Fresno State – JOSH HARPER
Hasn't really gone off this season but he's a solid play.
App State – SIMMS McELFRESH
Has 5 or more catches in the 3 games he's played in this season.
UCLA – JORDAN PAYTON
Is the most consistent UCLA WR but his receptions have declined in each game this season.
Texas Tech – REGINALD DAVIS
A decent cheaper options since he's likely to get some looks in this game. Has 2 TD's on the season as well.
Tight End
You're on your own here. Honestly, don't be too concerned if your TE doesn't do much.
App State – BARRETT BURNS
Has 5 receptions on the season with 1 TD.
New Mexico – REECE WHITE
Has 2 catches on the season with 1 TD