Daily College Fantasy Football – QB Picks – Week 1 (Friday)
|
Today we are taking a look at the Friday August 29th – WEEK 1 – daily college fantasy football QB picks. Basically I'm listing my selections in order, but will likely move some guys up/down as we get closer to gameday. The #1 and #2 QB's this week are both very different players, but are by far & away the best options you have in this limited schedule of games.
Friday August 29, 2014 Schedule
BYU @ UCONN
Bowling Green @ Western Kentucky
Colorado State @ Colorado
USTA @ Houston
UNLV @ Arizona
These are The Games Available On DraftKings
BYU @ UCONN
Colorado State @ Colorado
Jacksonville State @ Michigan State
Villanova @ Syracuse
USTA @ Houston
UNLV @ Arizona
Houston QB – John O'Korn vs USTA
I'm putting O'Korn at the top of the Friday college daily fantasy game QB list basically because of what he did last season against USTA. 4 TD's – no picks and 312 yards is pretty good to me. Vegas doesn't see Houston scoring 59 points again (and I don't either) but I think O'Korn should have a good game.
Enter Now: $50 NFL Week 1 FREEROLL
BYU QB – Taysom Hill at UCONN
The Huskies return several defensive starters, but is expected to loose by 2 1/2 scores to BYU. Hill is a run/throw QB and he's capable of putting up good numbers … especially on the road. The downside is he's the most expensive QB out of the Friday matchups, so upside will occur only if he has a big game.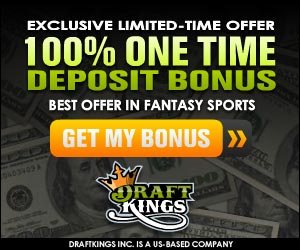 Bowling Green QB – Matt Johnson at Western Kentucky
Johnson, like Garrett Grayson below, put up solid numbers last season … and is a viable option at QB for the Friday games. I probably like him more in 2 QB leagues as my cheaper #2 because he doesn't have huge upside stat potential. I like the matchup, as Western Kentucky has lost it's top 5 tacklers from last season … so they probably won't be as good as they were last season.
Colorado State QB – Garrett Grayson at Colorado
Pretty solid numbers at QB last season … and did end up with 23 passing TD's. He's admitted to throwing more interceptions this off-season compared to last, but like a smooth politician turned it into a positive because that means the secondary is better. The Vegas O/U in this game has risen since the opening line and it's essentially a pick-em game. Last season Grayson lost to Colorado – and to almost any decent opponent. Grayson is essentially your mid-priced option this week with some minimal upside – so I can see pairing him with studs at RB & WR and hope none of the other QB's go off.
Western Kentucky QB – Brandon Doughty vs Bowling Green
BG's defense last season was no joke, but are returning only 1 starter from the secondary … but when you look at Doughty's stats from last season, I think there are better QB's in my sleeper list. AVOID
---
More Week 1 Daily College Fantasy Football Picks:
---
Friday's Sleeper QB's
Colorado QB – Sefo Liufau vs Colorado State
Highest O/U game of the Friday bunch + it's expected to a close game = nice sleeper opportunity for sure. Sefo's coaches look to work him in the ground game a bit more this season – and he had okay numbers late last season against mostly solid PAC-12 teams.
Arizona QB – Anu Solomon vs UNLV
Can't ignore a teams QB when they are a 3+ score favorite against a weak team, but I'm not even sure Solomon will start. During Wildcat practice, Anu has been getting most of the reps with the 1st team. He's a risky sleeper if he ends up starting – and if he doesn't you could possibly roll with one of the other starters.
---
Stay Up To Date With 2014 Daily Fantasy College Football
---
Enter Now: $50 NFL Week 1 FREEROLL