Daily College Fantasy Football – QB Picks – Week 1 (Saturday)
|
Hello – the grand daddy of them all is here …. week 1 of the daily college football season! Today I've got my SATURDAY QB RANKINGS. I was going to break them down based on early/late games, but DK and FD have different interpretations of what's early & late so I lump them all together here. This list is loosely in order of who I like based on matchup and salary. The guys at the bottom aren't necessarily bad (unless I say so) and if you don't make the list, likely I don't like the matchup. Week 1 is full of cupcake matchps, so my strategy is to key in on the guys that play bad defenses. As we get closer to gameday, I will update these picks so please return before making your final selections.
Strategy Note: FanDuel & DraftKings broke out the early/late College games differently. I can't possibly rate everyone, so I tried to focus on the matchups that are likely to be on both sites. There's more cupcake matchups you can play on DraftKings, where FanDuel eliminated many of the no-brainer type plays.
ENTER NOW:  NFL $1,000 FREEROLL 
---
More Week 1 Daily College Fantasy Football Picks:
---
South Dakota at Oregon – MARCUS MARIOTA 
The only other guy I like better (but the two sites I play on haven't offered the game) is Bryce Petty. Oregon's coach should let Mariota run it up a bit before taking him out – but that should be enough to make him a fairly solid value even at his elevated price tag.
Portland State at Oregon State – SEAN MANNION $8,500
Almost unfair this game is on the board on DraftKings. Basically a must start because the coach will likely let him run up the stats a bit because he's a Heisman hopeful.
Marshall at Miami (OH) – RAKEEM CATO $9,800
Gotta love this matchup since Miami (OH) is one of the worst defenses in college football. Marshall is a hefty 24 point favorite in this one and Cato should be a big part of the offense. Not to mention the team is trying to win him the Heisman …. so running up as many stats against a poor team is exactly how you do that.
Indiana State at Indiana – NATE SUDFELD $7,500
I remember starting him last season a few times when he was involved in a QB rotation, but now the team is his alone. Last season he was 12/17 for 219 but 4 TD's against Indiana State. The team scored 73 points … so if the coach has that attitude again, look for Sudfeld to shine.
Georgia Southern at North Carolina State –  JACOBY BRISSETT $6,600
Transfered from Florida and sat out last season, many people expect him to be a star in this offense. I expect he'll look like one this week as well against Georgia Southern. NC State is a 22+ favorite in this game.
UCLA at Virginia – BRETT HUDLEY  $9,900
Faces a defense that can probably only be considered OK at best. Hudley is a Heisman hopeful, so the head coach will likely let him run up the stats a bit despite being a 3+ score favorite in Vegas.
Southern Miss vs Mississippi State – DAK PRESCOTT $9,600
M-State is a 30 point favorite and Dak is a deep sleeper for Heisman so the coach might let him go a bit.
Florida State at Oklahoma State – JAMEIS WINSTON $10,200
Has a huge "Johnny Football" like salary premium that I'm probably not going to pay up for. His team should be tested somewhat, which means he'll likely play 3+ quarters. I think I'll avoid him though and hope he doesn't have a huge game.
Cal at Northwestern – JARED GOFF $6,300
The line has moved down in this one a few points and the O/U is one of the highest of the day around 62. Last season he had 450 passing yards on 62 attempts against Northwestern. There are better plays than Goff at QB for Saturday, but Goff is pretty cheap and if you don't select him as your QB it's worth looking at the Cal WR's given the PPR stats they'll put up.
Ohio State at Navy – KEENAN REYNOLDS $8,800
I like Keenan, and remember starting him last season when he was a lot cheaper. If he's not the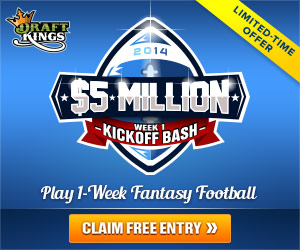 best pure option QB in the country, I'm not really sure who is. Not really digging his matchup this week against Ohio State. All the attention is on Braxton Miller being out and how that makes this more of a game, but I'm trying to make money … not watch good football games. Given the other cupcake matchups available, I'll probably avoid Reynolds and hope he doesn't have a huge game. Against weaker teams later in the season he's nearly a must start.
Appalachian State at Michigan – DEVIN GARDNER  $9,200
While it's not unheard of that APP State can't win this game … Vegas sees Michigan as a 34+ point favorite. Gardner has just recently secured the job, so it's possible he doesn't play 4 quarters.
Rice at Notre Dame – EVERETT GOLSON  $8,300 (he's only $5,800 on this site)
Okay, so I've read the hype and the hate about this kid during the off-season. I honestly could care less, I just want to know if I should start him in my daily lineup or not. This week, I'll likely avoid him just because of the matchup. Looks like Rice is returning 6 defensive starters, including two huge playmakers in the secondary. Personally, I'd rather start a QB against a cupcake team week 1 and he's overpriced on FanDuel.
---
Staturday Sleeper QB's
Troy at UAB – I REALLY want a QB in this game considering it's a pick-em game between 2 of the worst defenses in the country. Unfortuently looks like UAB is going a QB rotation. Troy hasn't named a starter as of yet – if 1 player is the clear winner, he could potentially be a deep sleeper #2 QB in a game that most people will ignore.
South Dakota State at Missouri MATY MAUK $6,700
I'll be honest, I don't know much about sophomore Maty Mauk … but I know even less about South Dakota State, which is probably a good thing for Mauk. Looks like he's a run/throw guy and is a cheaper option with upside as your #2.
North Dakota State at Iowa State – SAM RICHARDSON $4,100
You really only want to start this guy against weak competition and I don't think it gets much weaker. I don't think you need to go this deep considering there are value plays across the board week 1 because of cupcake matchups – but Richardson is an option if you're out of options (aka money).
---
Please Follow Us On Social Media
---
Ohio State – J.T. Barrett … I think too many people will start him without really thinking about it. He's facing a team that isn't as bad as many other teams face this week. I'll avoid him.
Illinois WES LUNT – Was recently named the starter after sitting out a year transferring from Oklahoma State. He's not super cheap but I bet many people pass on him because they don't recognize the name so he could have value in h2h or smaller leagues.
James Madison at Maryland – C.J. BROWN $6,400
CJ is pretty solid and he's a senior. His two favorite targets Stefon Diggs and Deon Long return as well. While not cheap, if C.J. can manage to play 3+ quarters … he'll likely put up good numbers.
Elon at Duke – ANTHONY BOONE $5,800
I know who Elon Musk is … but I can't tell you anthing about Elon football. My guess is Boone doesn't play 4 quarters but it might not matter.
Louisiana Tech at Oklahoma – TREVOR KNIGHT $8,400
Is a little to expensive to be considered a cheap sleeper, and might not have much upside at this price … but is likely going to account for much of the Sooners offense this season if he stays healthy.