Daily College Fantasy Football – QB Picks – Week 4 (Saturday)
|
Week 4 of daily college fantasy football is here – and here are the QB picks for the week. I think there are some great matchups at the high-priced QB, but in 2 QB leagues … or in lineups you feel like going with a cheap/average priced QB – there are tons of options this week. This list ins't in any particular order, but I do like the top 4 guys on the list.
Week 4 – RB Picks
Week 4 – WR Picks
Week 4 – TE Picks (Coming Friday)
Texas A&M at SMU – KENNY "TRILL" HILL
The coach lets him go off every game. Maybe he wants to prove it wasn't all Johnny's doing in winning the Heisman … and I'm rolling with Trill until proven otherwise.
Oregon at Washington State – MARCUS MARIOTA
There's not much to say other than he's one of the best QB's in college football.
Marshall at Akron – RAKEEM CATO
The one good QB that Akron faced (Penn State's Christian Hackenberg) had 319 yards and 3 TD's vs Akron. Unleash Cato with confidence.
Indiana at Missouri – MATY MAULK
Is underpriced on FanDuel considering he has 3+ TD's in each of the first 3 games … and … faces an Indiana team that can't stop anyone (and can't really be stopped themselves). This should be a really entertaining game.
Oregon at Washington State – CONNOR HALLIDAY
This team throws nearly every down. Somewhat tough matchup but they are at home and Oregon has given up 275 yards/game this season.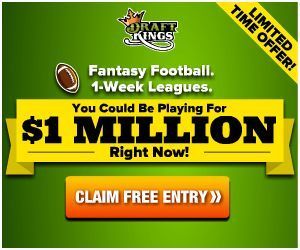 Virginia at BYU – TAYSOM HILL
Should have some room to use his legs in this one and he's a solid dual-threat QB just about every week.
North Carolina at East Carolina – SHANE CARDEN
The kids will be pumped up for this game. Carden has been very good this season.
UNLV AT Houston – JOHN O'KORN
So I liked this guy for 2 weeks and he sucks, then he has a really nice game against BYU of all teams. You have to like him this week against UNLV and hope he was just rusty and now he's good to go.
North Carolina at East Carolina – MARQUISE WILLIAMS
Solid run/pass option against a team that should keep pace with UNC all game.
Cal at Arizona – ANU SOLOMON
He's been darn good the first 3 games and has 8 passing TD's. He should have some room to throw and run, but Cal's defense has improved over last season.
Maryland at Syracuse – C.J. BROWN
Is a playmaker, not a super matchup on the road but this guy is capable of breaking off a big play.
Cal at Arizona – JARED GOFF
I don't know if the coach will play the undersized Luke Rubenzer during series of this game but that's been the case early in the season. That has lowered Goff's value but he's still playable considering the matchup.
Clemson at Florida State – JAMEIS WINSTON
Unless you've been under a rock – Winston is suspended for the 1st half of the game, so you'll likely want to avoid him.
Cheaper Options:
Sometimes you need to go off the board at QB (although I don't really recommend it) … but this is gambling and it's fun if you nail one of these picks. So while I wouldn't roll with one of these guys through your entire lineups – tossing one it, especially in 2 QB leagues is not a bad idea.
Bowling Green at Wisconsin – TANNER McEVOY
If you want to go way off the board with your QB pick, Tanner could work out for you. He faces Bowling Green, who through 3 games have given up 1,237 yards which is the most in the NCAA. Last week he had 3 TD's and gets out of the pocket & runs a bit too.
Please Follow Us On Social Media
Indiana at Missouri – NATE SUDFELD
Was a pretty easy cheaper start last week against Bowling Green. RB Tevin Coleman is a beast, and I'd have to guess that teams are going to key on him even more. This one is susposed to be high scoring and Indiana should go down a score or two which might lead to plenty of passes for Sudfeld.
Texas State at Illinois – TYLER JONES
Vegas see's Texas being down in this one, which likely means Jones will be doing his thing. He's an effective passer and runner with some upside.
Northern Illinois at Arkansas – DREW HARE
This game is supposed to be a shootout of sorts and Hare just took over the job because of injury so he'll be off most grinders radar.
Ball St. at Toledo – OZZIE MANN
I simply can't ignore a team (Toledo) who have given up 13 TD passes + 1,099 in only 3 games this season through the air.
Ball St. at Toledo – LOGAN WOODSIDE
Solid matchup and he's really cheap.
Enter Now: $1,000 NFL Freerolls This Weekend