Daily College Fantasy Football – QB Picks – Week 6 (Saturday)
|
Another week – and I'm excited about the weekend as I was able to watch most of the games last weekend but didn't play in that many games. This week has some good matchups but the one that jumps off the page is the Cal & Washington State game. I've included some cheaper guys at the bottom if you feel like going off the board or are in 2 QB leagues.
Washington State – CONNOR HALLIDAY
They play Cal. AZ put up 73 passes against them last week. This will be a game I will be watching and having players involved in.
Cal – JARED GOFF
Don't expect 7 TD's but this matchup might even be better than last week.
Easy Money = $3,000 NFL Freeroll This Weekend
Texas A&M – KENNY HILL
Still a few ticks cheaper than he should be on DraftKings – and this matchup is another good one yardage wise – but Miss St has only given up 5 TD passes in 4 games.
UCLA – BRETT HUNDLEY
Looks like he's cool and faces a Utah team that has given up 262 yards/game to teams.
Cincinnati – GUNNER KIEL
I left him off the list last week against Ohio State, and he had 4 TD's. He has 14 TD's and 2 INT's in 3 games.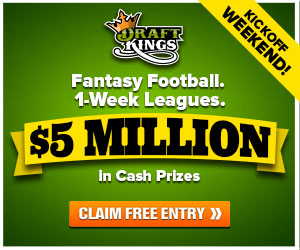 Texas Tech – DAVIS WEBB
He's got some injury concerns but looks like he's okay. He's been very solid this season and should be asked to throw most of this game.
NC State – JACOBY BRISSETT
I was calling this guy out during the first 2 weeks and I think most everyone got to see him play last week against Florida State. He's really good, always an injury risk – but he's solid. Zero INT's this season.
Marshall – RAKEEM CATO
Has a good matchup this week – only real issue is his price.
Western Kentucky – BRANDON DOUGHTY
Kind of pricy, but he's good and they like to throw.
Cheaper Guys
North Texas – DAJON WILLIAMS
Got the start last game and did really well. Teams have done well throwing against Indiana this season.
Virginia Tech – MICHAEL BREWER
Teams have been getting yards in chunks against North Carolina and Brewer is an effective QB on a team that likes to throw.
Memphis – PAXTON LYNCH
Got shut down last week but that was Ole Miss. Faces Cincinnati this week who've struggled in the air – mainly because their QB (Gunner Kiel) has been lighting it up – causing the other team to throw.
Week 6 – Daily College Fantasy Football RB Picks