Daily College Fantasy Football – RB Picks – Week 8 (Saturday)
|
I've got a bunch of running back picks for you this week – so you should have no problem filling out your daily college football lineups. The list isn't really in order, and there's no real lock-of-the-week … so I'm going to be mixing & matching these guys across several lineups.
Nebraska – AMEER ABDULLAH
Pretty good matchup against Northwestern. Has 2+ TD's in each of the last 3 games.
Western Michigan – JAVION FRANKLIN
Almost unfair FanDuel puts Bowling Green on the board considering they are such a bad defense. Franklin is nearly a lock against this group.
USC – JAVORIUS ALLEN
Has been getting better every week. Faces Colorado this week that has given up 11 rushing TD's and over 1,000 yards to running backs through 6 weeks.
Georgia – NICK CHUBB
My boy Gurley is still out after doing what any broke college student would do. You will want to double check to make sure Sony Michel is out and Keith Marshall is out … if so – Chubb is the guy again.
Minnesota – DAVID COBB
Has 30+ carries in each of the last 3 games.
Baylor – SHOCK LINWOOD
Has 28 & 29 carries the last 2 games and 140+ yards in each of those games. Lit up TCU for 178 yards … and they have a strong run-D. He's a solid option because the passing game is so good it opens up holes for him.
Marshall – DEVON JOHNSON
Has 100+ yards and 3 TD's in each of the last 2 games. Florida Int is not a horrible run-D but he should be able to find some room.
UCLA – PAUL PERKINS
He's been solid nearly all season. Had 190 yards last game against Oregon.
Oklahoma – SAMAJE PERINE
Make sure Keith Ford is out – if so, the matchup is decent and he's been filling in fairly well.
San Diego State – DONNEL PUMPHREY
This dude has been a lock the last 2 Thursday/Friday matchups and has 20+ carries in each of the last 3 games. Faces Hawaii which is known more for it's beaches than it's run-D.
Northwestern – JUSTIN JACKSON
Is probably one of the better options in the later games who's not super expensive. He struggles to score TD's but the team has been giving him more touches recently.
Michigan State – JEREMY LANGFORD
Might be odd I don't have Tevin Coleman listed, and that might be a mistake again (I didn't have him last week and he went off on a good defense). Langford is steady and Indiana is a good matchup for him.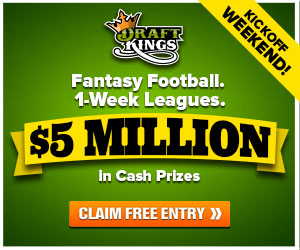 Alabama – T.J. YELDON
Is viable against a weaker Texas A&M run defense.
Cal – DANIEL LASCO
Has more upside in 1pt PPR leagues. You've got to figure UCLA will be up in this game, so it might limit him a bit, but Cal would be smart to control the ball a bit considering their defense is horrible.
LSU – LEONARD FOURNETTE
Provides great value if the team gives him the ball 27 times again.
Kansas – COREY AVERY
Gamblers pick here, but Texas Tech strggles against the run. Avery only gets about 10 touches per game but has scored a TD in each of the last 2 games.
UCF – WILLIAM STANBACK
Not a big play guy, but can get you a TD, which is where his upside is. Strictly a cheap #2 with a decent matchup.
Oregon – BYRON MARSHALL
Is now listed as a WR on the Oregon depth chart … I'd only use him in 1pt PPR leagues.
Florida – MATT JONES
When healthy and against a weaker teams, he's pretty good. Make sure he's starting, but is a capable cheaper #2 RB this week.