Daily College Fantasy Football – WR Picks – Week 1 (Friday)
|
Here are Friday's Week 1 daily college fantasy football WR rankings. Luckily – there are some obvious targets that I have listed below essentially in order but mix-match them based on your budget needs.
I will edit this page (along with my other NCAA picks) as we get closer to gametime. Be sure to visit our site again before you make your final selections.
Friday August 29, 2014 Schedule
BYU @ UCONN
Bowling Green @ Western Kentucky
Colorado State @ Colorado
USTA @ Houston
UNLV @ Arizona
Houston WR Deontay Greenberry #1 $8,900
The most expensive WR on FanDuel. Last season against USTA he had 9 catches for 149 and 1 TD. He's a beast, and I will likely have at least 1 lineup with QB John O'Korn and Greenberry paired together. Given Greenberry is only 900 more than Devante Davis who faces a PAC-12 team …. I love him at this price against a team he has history against.
Enter Now: $50 NFL Week 1 FREEROLL
Colorado WR Nelson Spruce $5,300
I only rate Spruce this high because I think his salary on FanDuel leaves tons of room for upside compared to more expensive (and talented) guys I list below. Funny thing is, Spruce isn't the most expensive WR on the team (D.D. Goodson is $700 more) and Nelson is the team's #1 WR and had 55 catches last season vrs Goodson's 22. There should be plenty of room for both to improve considering one of the top WR's in the country Paul Richardson's 83 catches are now in the NFL. Given his price and the matchup against a fairly weak Colorado State team who he torched for 8 catches & 99 yards last season … you can comfortably start Spruce as your #2 or #3 WR and he gives you #1 WR upside. WR Tyler McCulloch rounds out the bunch and given the history of high flying games between these teams Goodson or McCulloch could be viable options as well.
---
More Week 1 Daily College Fantasy Football Picks:
---
Colorado State WR Rashard Higgins #3 $7,300
The Vegas O/U just keeps ticking up in this one, so someone thinks it's going to be a shootout. Last season as a freshman (in his 1st game) Higgins had 6 catches for 57 yards against Colorado. He finished the year with 837 yards and 68 catches so I think FanDuel is pricing in his progression. Slot WR Joe Hansley (see below) & WR Charles Lovett return and are viable cheaper options at WR if you run out of money.
UNLV WR Devante Davis #2 $8,000
Faces off against Arizona in the desert and UNLV is a ~24 point underdog. I could see Davis getting some garbage time catches against Arizona DB's who will be thinking about the after parties by the 3rd quarter. Davis is the second highest priced WR … and I think there's some risk because you're likely going to have to rely on him getting receptions and some yards for you to get your money's worth. I only rank him lower on my list because there are cheaper options who have easier paths to upside.
SIGN UP NOW:  NFL $1,000 FREEROLL 
Colorado State WR Joe Hansley $4,800
If Rashard Higgins is too expensive for you, returning junior WR Joe Hansley is much cheaper.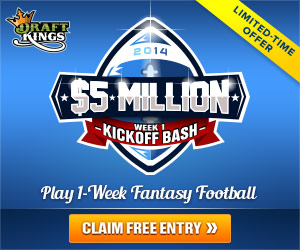 Last season he had 7 catches for 90 yards against Colorado. Only caught 1 TD last season. I think at this price, he could easily be your #3 WR and you have upside if he has a similar game to last season.
Houston WR Daniel Spencer $5,600
Houston loves to throw, and if USTA doesn't double team Deontay Greenberry, the game could be over real quick. Spencer is a senior, and in a PPR format could be a safer sleeper pick, especially against a weak defense.
UNLV WR Marcus Sullivan $5,500
In 9 games last season, Sullivan was effective with 45 catches, 505 yards and 5 TD's (along with 81 yards rushing with 1 TD). He's much cheaper than teammate Devante Davis so I like his upside more at this price. I think both should get some cheapy garbage time catches … but TD's might be hard to come by.
UCONN WR Geremy Davis $5,100
On FanDuel he's kind of a value play at $5,100 – this is one of the best WR's of the AAC. His team is a 2 score underdog, so likely they will be throwing most of the game.
Arizona WR Austin Hill $5,500
This is a guy that had 81 receptions for 1,364 and 11 TD's the last time he played college football in 2012. That's elite in the NFL … let alone college football. With question marks at QB, it's unclear how big of a weapon Hill can become but he rates as a sexy sleeper WR for the Friday games because he faces off against UNLV and his team is a 3+ score favorite.
Houston WR Greg Ward Jr. $4,700
See Daniel Spencer above, but Ward is even cheaper.
---
Please Follow Us On Social Media
---
 Sleeper WR's For Friday
You could take a look at some of the USTA WR's against Houston. WR Brandon Freeman and WR Kam Jones have some history when they played last season. Also there should be plenty of balls flying around in the CU – CSU matchup tonight too.
BYU – Mitch Matthews – Jordan Leslie – Terenn Houk
With transfer star WR Devon Blackmon out … it leaves the 3 WR's above in line for a boost.
Bowling Green WR Ronnie Moore – Dieter Gehrig – Heath Jackson
This is basically straight from the depth chart. Given how many plays BG likes to run, you can expect these guys to see some targets tonight. WR Roger Lewis is likely the super sleeper because he's a 4-star recruit who originally committed to Ohio State but got into some trouble with the law. I'm not sure how you decide who to roll with here, but all are pretty cheap – so most have upside given the matchup.