Daily NBA Fantasy Basketball Sleeper Picks – November 14
|
We've got our initial list of NBA daily fantasy basketball sleepers below and I might be able to add to this list as the day moves along. There are some key players out tonight including Dwyane Wade, Thad Young, Terrence Jones and others.
G – ZACH LAVINE
Still pretty cheap but his salary is climbing a bit. With Thad Young out tonight, it might increase his chances to score.
G – EVAN FOURNIER
Okay, so if Victor Oladipo plays tonight, the perma-sleeper tag probably goes away but if not, Fournier has been hot and is viable if Oladipo is out.
G – ANTHONY MORROW
Mr. Rise & Grind broke out last game, and he's somewhat risky because he's likely not starting, but if his shot goes down he has plenty of upside.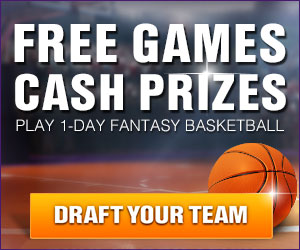 G – NATE ROBINSON
SUPER risky, but it appears his minuets restriction is gone and Randy Foye boy is out and if Robinson draws the start, he could provide value over his minimum price salary.
F – LUOL DENG
Hot or cold this season. With D-Wade out, the Heat might need him to get hot tonight. Plays plenty of minuets, you just hope he can score.
F – CHRIS COPELAND
The Nuggets got LIT UP the other night, so grinders will likely be targeting this game a bit. Copeland has been the most consistent Pacer player outside of Roy Hibbert.
F – DONATAS MOTIEJUNAS
Viable only if he is in the starting lineup. Risky hot/cold type guy but he's not super expensive and has a rather easy matchup against the 76ers tonight.