NFL Daily Fantasy Football – Sleeper Picks – Week 3
|
I'm just going to roll all our football coverage onto one page instead of breaking it out like the college. Also, remember these are sleeper picks – guys you want to roll with after you filled your lineup with solid guys. Since there's plenty of coverage on the higher end fantasy players, we hope these thoughts on the cheaper players can help you fill your lineup.
QB – Interesting week with Peyton Manning going against Seattle on the road. Forget Manning, Russell Wilson is going against a team that has given up some big plays through the air and is a viable mid-priced QB this week. A sleeper pick who has a chance at having a good game might be Joe Flacco, although he's looked fairly poor at times this season, he has a solid track record against Cleveland. I also think Philip Rivers could string 2 good weeks together, but does faces a solid Bills team on the road. Matthew Stafford also appears to be utilized quite a bit in matchups that started Thursday – as the Green Bay matchup is solid & Calvin Johnson has good history against the Packers.
RB – STEVAN RIDLEY
This is risky, because you never know how New England will do things, but the Raiders are giving up huge chunks on the ground and Ridley seems like the running back Bill likes to use in the running game. Shane Vereen practiced in a limited fashion this week, leaving more credence to Ridley having a good day.
RB – JOIQUE BELL
If he's ruled out before the game (he's listed as probable) I'd like Reggie Bush. However, Bell is the between the tackle runner, and the Packers are missing some guys up front which has exposed the middle of the field … which is good for Bell.
RB – DeMARCO MURRAY
The guy leading the league in rushing isn't a sleeper, but St. Louis hasn't been solid against the run and Murray is the 5th highest priced RB on FanDuel.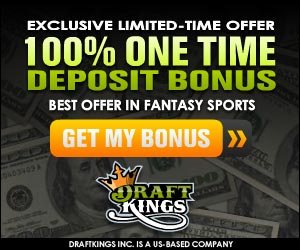 RB – AHMAD BRADSHAW
He's going to split touches with Trent Richardson, but should get the edge most of the time. He faces the Jaguars who have given up the 5th most yards per carry to running backs through 2 weeks.
RB – JUSTIN FORSETT
If Bernard Pierce is ruled out, I think you roll with Forsett comfortably. If Pierce plays, I think you just monitor the situation.
WR – CORDARRELLE PATTERSON
The Vikings looked horrible at home last week so I expect most people to avoid their players this week. Patterson was also limited in practice this week. He's outside the top 10 and faces New Orleans who hasn't stopped anyone yet this season.
WR – TORREY SMITH
I heard this take on the ESPN Fantasy Focus podcast. Basically if Joe Haden guards Steve Smith Sr. that might leave some room for Smith to work. Problem is Smith has looked horrible this season, but is a guy with some upside.
WR – CECIL SHORTS – ALLEN HURNS
Shorts is making his debut after being hurt for 2 games. Hurns has had a let down after a big week 1. With Marquise Lee out, the two should get some targets over rookie Allen Robinson.
WR – MARLON MOORE
He was suspended for the 1st game, and had 9 rushing yards and 62 receiving yards on 7 catches against New Orleans. It's not a good matchup, but he's a minimum priced guy who probably will get playing time, just double check in the AM.