NFL Daily Fantasy Football – WR Sleeper Picks – Week 1
|
Welcome to Daily Fantasy Grind. This season I'm going to give you my cheaper "sleeper" picks for WR, RB, and QB & TE if there are any standout sleepers of note. Week 1 of the daily fantasy football season has some nice sleeper opportunities, partly because the daily fantasy websites put the games on the board early in the preseason. Since then some injuries & breakout performances has opened the door for some cheaper WR's.
This list is not in order – I'll likely use a mix of these guys when I want to save some money on a WR/FLEX spot. I'll also make adjustments to this lead leading into gameday – so please check back for my latest list.
Cincinnati at Baltimore – MOHAMED SANU
With WR Marvin Jones hurt, the nation that tuned into the Bengals 3rd preseason game saw what many already knew …. Sanu is a solid WR. Baltimore will likely need to double-team A.J. Green at times and Sanu is a decent WR #3/Flex because he can get you 4-5 catches pretty cheap this week.
– ENTER NOW – WEEK 1: NFL $1,000 FREEROLL 
Carolina at Tampa Bay – KELVIN BENJAMIN
This is everyone's favorite sleeper WR right now, but possibly with good reason considering Carolina's WR core is pretty light. He provides #2 WR upside at #3/FLEX type money.
New Orleans at Atlanta – BRANDIN COOKS
I remember picking this guy just about every week last year with our daily college fantasy football picks, and this week he opens up against Atlanta.
49ers at Dallas
It's pretty well known Dallas' entire defense is lacking talent. The thing is, the 49ers have struggled a bit in the pre-season so people might avoid 49er players despite this being a great matchup. It's hard to pick a WR at this point, but outside of Crabtree – all the other 49ers WR's are below Avg. salary. WR Anquan Boldin is the safest choice. WR Stevie Johnson is new to the team but could contribute week 1. Quinton Patton and Bruce Ellington have impressed too. Leading up to game time – it might be a coin flip situation but I'd lean toward Boldin to be safe.
Cleveland at Pittsbugh – ANDREW HAWKINS
I'm not super high on this guy after following his career in Cincy, however the Browns are light at WR. Miles Austin and Nate Burleson can also be a viable option.
Enter Now: $50 NFL Week 1 FREEROLL
Cleveland at Pittsbugh – MARKUS WHEATON
Should be really cheap, and while the Browns have capable defenders, they really don't have that many guys to throw the ball to.
Tennessee at Kansas City – JUSTIN HUNTER
Should be pretty cheap if your DFS set the salaries early in the preseason. Starter Nate Washington could be a little safer play with less upside potential.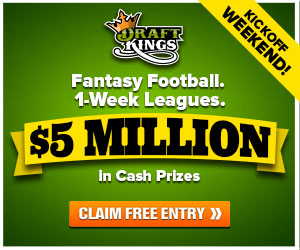 Washington at Houston – DeANDRE HOPKINS
Faces a pretty weak defense and is quite a bit cheaper than #1 WR Andre Johnson.
San Diego at Arizona – MALCOM FLOYD
Is returning from an injury and appears to be ready to roll week 1. He should be pretty cheap and San Diego likes to throw.
Jacksonville at Philadelphia – JORDAN MATTHEWS
This guy was a beast last season in college and you'd think he'd fit right in with the high flying Eagles. He seems to be working his way into the rotation, so it might be a little early playing him but he's got the talent to get catches.
New England at Miami – AARON DOBSON – KEMBRELL THOMPKINS
Both should be pretty cheap, and they both are the Patriots downfield threat at WR. Double check to see who's starting week 1 and if Dobson is healthy.
Indianapolis at Denver – EMMANUEL SANDERS
If Wes Welker misses the game, I expect many daily fantasy football grinders to have Sanders in the game as a value play with massive upside given his QB and the matchup.